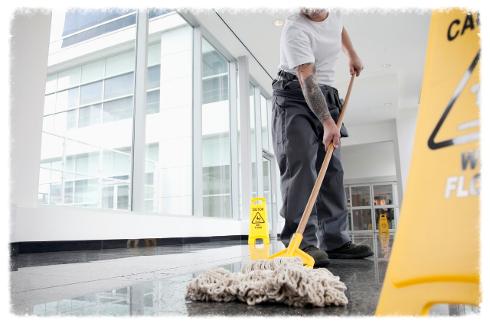 1) FLOOR CARE
Hard surface finished floors will last longer and appear cleaner through a scheduled maintenance program incorporating the following elements:
Floor Stripping and Refinishing – Removal of all old floor finish (stripping), thorough cleaning and rinsing of the bare floor surface, and reapplication of several coats of new floor finish to protect the floor from damage and optimize appearance.
Spray Buffing or High Speed Burnishing – Restores shine to finished floors to keep them looking their best. Depending on the traffic and requirements of the facility, buffing or burnishing may be performed anywhere from quarterly (low traffic areas) to monthly (typical office building lobbies and hallways) or more frequently (retail environments).
2) CARPET CLEANING SERVICES
Regular carpet cleaning service is advisable to extend the carpet life and keep it looking clean and professional. Vanguard franchisees can provide your facility with several carpet cleaning options.
Extraction – Hot water with cleaning solution is sprayed onto the carpets, agitated into the carpet fibers, and vacuumed out.
Shampoo – In buildings where it is not possible to avoid walking on the carpets for 5-6 hours, shampooing allows for quicker drying of the carpet than extraction.
Bonnet Cleaning – This is an interim maintenance method that is often utilized for high traffic areas to keep the appearance clean in between more intensive cleanings.
3) POWERWASHING
VBM offers a dynamic range of power washing services. Our solutions are geared to your unique needs, with effective, timely, professional service. Our hot and cold-water capability, can tackle just about any revitalization project, large or small. Applications include: Business Frontages - Valet and Foyer Areas, Sidewalk and Walkway Gum Removal, Roadway and Business Signage and Awnings, Residential Homes, Decks, Interlocking Brick, and Patios, etc.
4 ) OTHER SPECIALIZED CLEANING SERVICES
Window Washing

Periodic Deep Cleaning