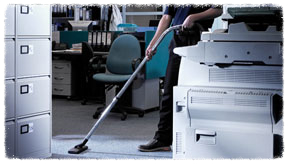 The use of office cleaning services benefits an office in a multitude of ways. The employees in a clean, tidy office work more efficiently than they would in a messy and dirty environment. Also, potential clients who visit a clean office leave with a favorable impression of the place. Our staff of cleaning professionals can maintain building lobbies, entrances, employee restrooms, conference rooms, training rooms, office areas, and a variety of other environments. Our staff are trained, committed, focused and sensitive to building security and access procedures. All employees are covered under liability, property damage and workers compensation insurance.
Our Office Cleaning Services Include -
Empty trash receptacles

Dust desks, furniture, picture frames, partitions and windowsills

Polish desks and furniture

Clean partition glass and mirrors

Wipe removable smudges and spills off doors, walls and light switches

Vacuum all carpeted areas and upholstery

Detail corners, ledges and hard to reach areas

Dry and wet mop all hard surface floors

Properly position furniture

Knock down cobwebs

Disinfect restroom bowls, basins, urinals and fixtures

Fill dispensers

Disinfect kitchen counters, sinks and tables

Clean and sanitize water coolers and drinking fountains

Custom services are available upon request.